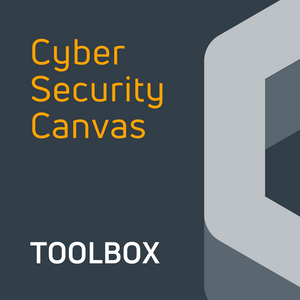 Cyber Security Canvas
How to reduce your cyber security risk profile
The Cybersecurity Culture Canvas has been developed by the Business Centre in collaboration with ElevenM as a tool to provide clarity on your cybersecurity strategy and what your business is trying to protect.
It eliminates the technical noise and lets you zero in on what's important to your business: protecting your business information from unauthorised access, damage, or attack and provides the stepping stones to create a cyber strategy specific to your business.
After purchase, a ZIP file with your print and type friendly PDF's will be available for download and can be used as a working document. You will also receive an email or text notification. If you require further advice or support whilst using the Canvas activity, we recommend booking an appointment with our cyber security advice sessions. These sessions are currently free until May 2022, with limited availabilities.
Cyber Security Culture Toolbox
Strategy Canvas

 - was created by our team in the context of working with small to medium size businesses doing an annual cyber review and strategy session. This tool is great to do with your team as it may help to build a strong cyberculture, protecting your reputation and brand!

What is cyber security?

 – cyber security refers to processes, practices, controls, and technologies to protect an individual or a business from authorised access into systems, devices, networks programs and data from breaches.

What are the benefits?

 – building a strong cyber cultural posture within your business can ensure your employees are informed and confident from accidentally opening your business up to breaches. If you and your employees can identify, address, and have steps in place to reduce cyber risks this will put you ahead of your competitors, that your cyber fitness is up to date.   

Think

 – about who is responsible within a business to ensure you are minimising risks. The canvas takes you through guided questions on your assets, possible threats and risks, policies, and regulations.

Action

 – after the 'think' activity has been addressed the next step is to take action and document roles and responsibilities and continuation to update on current cyber updates, create/update a response plan, governance (not as boring as one would imagine) and finally understanding control and defence systems.