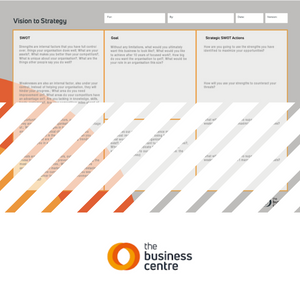 Need to re-set your business goals and direction?
This tool will prompt your thinking around where you want your business to go and how you are going to get there. You will articulate the driving purpose behind your business idea and be prompted to research how your business will be benchmarked against the competition. Use the vision to strategy tool to assess your; goals, purpose, SWOT and Strategic SWOT. 

This tool covers items that are as old as business itself! There is a reason why this thinking is still used today; it focuses and informs the business owner to set a clear pathway forward.
If you need to chat with a business advisor for some extra support, reach out on 02 4925 7700 or via info@businesscentre.com.au. We are here to help.